THERMOGENIC BOOSTER DRINK RED FRUITS 12 X 700 ML
329 kr
Ideal to consume just before or during physical activity, THERMO BOOSTER will help keep your body hydrated and get the maximum results from your training, thanks to its carefully selected active ingredients. Made with green tea and guarana extracts, L-carnitine and caffeine, this drink has a rich caffeine content and will prepare you for all your physical training! With zero calorie and zero sugar, it is the best drink to add to your routine before your daily training.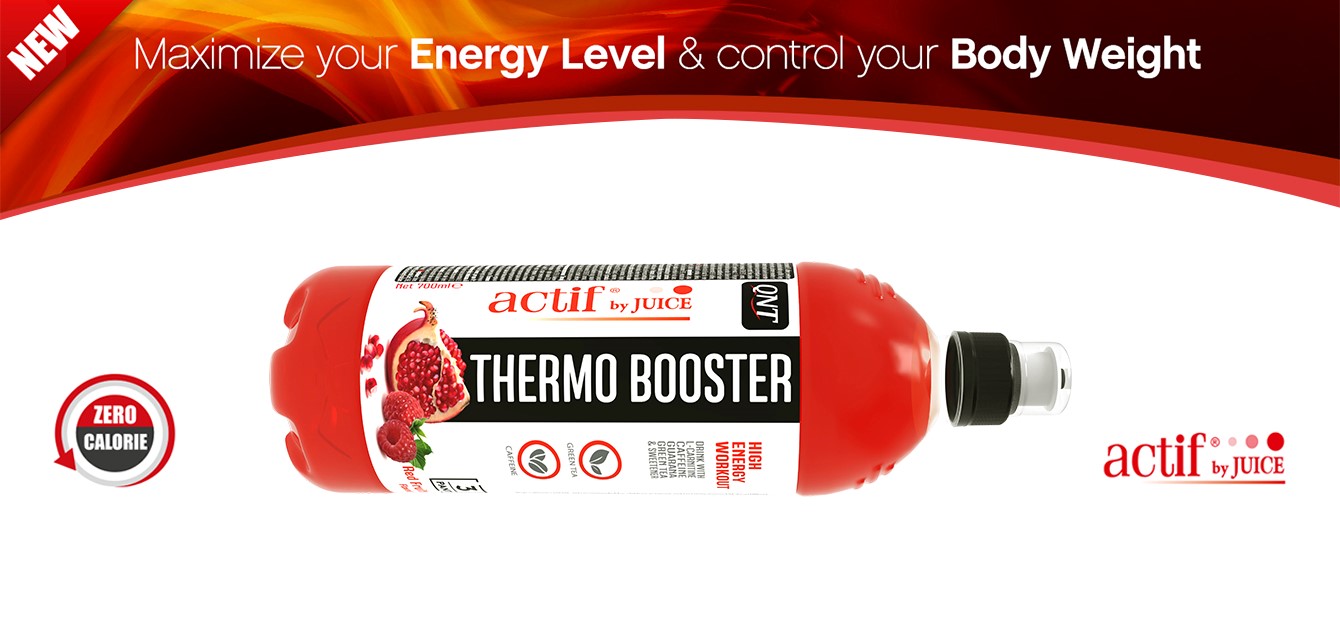 Thermo Booster is a blend of super effective ingredients
THERMO BOOSTER's formula includes guarana, green tea extract and L-carnitine. These active ingredients form a super-efficient complex that will allow your body to stimulate the metabolism in order to control the body weight.
But these ingredients, taken individually, are also beneficial for physical performance, with their peculiar properties.
Guarana is a natural ingredient that comes from a plant long used by Amazonian tribes for its many beneficial properties. It has tonic properties, it stimulates the metabolism (including the metabolism of lipids) and helps with weight control.
Green tea also has tonic properties, it's an antioxidant, it can help with weight control and to get rid of excess water.
L-Carnitine helps transport fat into energy-producing cells in the muscles (called mitochondria), thus helping with the process of using fat as a source of energy.
This blend of ingredients makes THERMO BOOSTER the ideal drink for athletes looking for a little boost to help them maximize their results.
Thermo Booster contains zero sugar, zero calories
THERMO BOOSTER is also sugar-free and provides no calories! It is therefore perfect as part of a slimming diet, combined with an exercise program or intense sport, for maximum efficacy.


Water, acidity regulators: E330/E331, flavour, L-Carnitine, preservatives: E202/E211, raspberry and pomegranate juices from concentrate 0,5%, caffeine, sweetener: E955, guarana extract, color: E163, green tea extract.
This food supplement should not be used to replace a balanced and varied diet and a healthy way of life. Keep away from young children. Do not exceed the recommended dose.
| | | |
| --- | --- | --- |
| | /350 ml | /100 ml |
| Energy | 0 kcal (0 kJ) | 0 kcal (0 kJ) |
| Fat | 0 g | 0 g |
| - Saturates | 0 g | 0 g |
| Carbohydrates | 0 g | 0 g |
| - Sugars | 0 g | 0 g |
| Protein | 0 g | 0 g |
| Salt | 0 g | 0 g |
| Raspberry & pomegranate juices | 80,5 mg | 23 mg |
| Total Caffeine | 74,5 mg | 21,3 mg |
| Guarana | 17,5 mg | 5 mg |
| L-Carnitine | 200 mg | 57,1 mg |
| Green Tea | 7 mg | 2 mg |